Theater Garden Bestiary
March 28–July 31:
Departing Haus der Kunst director Chris Dercon will reinstall a 1980s group exhibition featuring Jeff Wall, James Coleman and other outstanding artists.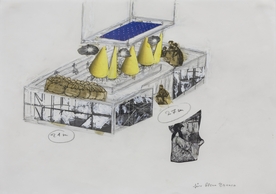 Long before Chris Dercon took up the post as the main curator of the Haus der Kunst in 2003, the Belgian art connoisseur cooperated with one of Munich's many outstanding gallery owners—Rüdiger Schöttle. In early 1980s, Schöttle had written the text "Bestiary: Theater and Garden of Wildness, Struggle and Happiness" envisioning a new form of exhibiting art. Inspired by the baroque style of gardening design, Schöttle imagined the fusion of real and artificial worlds through which visitors could stroll as beholders and participants at once.


Back then it was none other than Chris Dercon who agreed to produce such a mammoth project that would incorporate architecture, music, film, sculpture and other fields of art. As it turned out, it apparently was quite a venture of wildness and struggle to harmoniously bring together all artists. Nevertheless, Schöttle and Dercon managed to realize the project with 13 artists the result of which was first presented in 1989 at the P.S. 1 New York. For Dercon, who will leave Munich for the Tate Modern London on April 1, the revival of the Bestiary will be his farewell show. For more information, visit
hausderkunst.de
.
FIND OUT MORE