Curvaturomance
July 8–October 23:
Visitors to the Pinakothek der Moderne will get the chance to marvel at the exceptional sculptures of American artist John Chamberlain.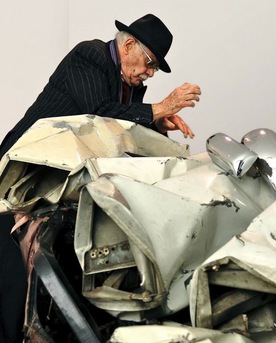 What Carrara marble was to renaissance artists, are old car bodies to John Chamberlain (pictured left). Instead of working with hammer and chisel, Chamerlain prefers the scrap press. Over the past decades he refined his methods towards an exceptional mastery, part of which will be on display in Munich. Especially selected for the Pinakothek der Moderne, Chamberlain will present twelve of his latest compositions, often of 5-meter height, that experts consider to follow a lineage of sculptures from the Middle Ages and the baroque to the main work of Auguste Rodin. Chamberlain himself has also created the neologism "Curvaturomance" for the exhibitions title, alluding to the erotic, fearless, vigorous and humoristic aspects of his pieces.
"Curvaturomance" will be the kick off exhibition of the museum's "American Summer" series, which will be followed by a show the lesser known furniture design by Donald Judd—a fellow sculpturer and friend of Chamberlain. To read more about Judd's show "A Good Chair is a good Chair" click here. More information is also available at pinakothek.de/pinakothek-der-moderne.
FIND OUT MORE