| |
Circus Krone
Europe's largest traditional circus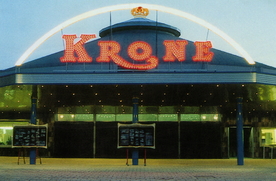 Remember being taken to the circus as a child? Remember the anticipation of seeing wild animals up close, the smell of fresh popcorn wafting through the air and the fluff of pink cotton candy stuck to your cheeks? There you were, sitting in the dark, watching in wonder as the sequin-costumed trapeze artists glittered through the spotlights. Destined for a career in the circus, you imagined yourself up there swooping through the air with clowns and elephants at your feet.


If you're like most people, these happy delusions are long past. But for the young at heart, they needn't be. Munich is home to Circus Krone, which has been enchanting audiences of all ages for some 100 years. Affectionately dubbed "Bavaria's National Circus," the family-run operation has deep roots in Munich and is currently operated by fourth-generation director Christel Sembach-Krone.

Circus Krone is a modern show built upon some of the Western world's oldest entertainment traditions. Dating back to ancient Rome, circus performances have drifted in and out of fashion, but never completely ceased to capture the fascination of audiences. In fact, the spirit of tradition, perseverance and the ability to bedazzle audiences has seen Circus Krone through two world wars and thousands of performances for an estimated 40 million circus-goers.

Circus Krone founder, Carl Krone (1870–1943), was born, literally, in the back of a circus wagon. The son of a menagerie director, Carl grew up with the circus in his blood. By the age of 17, he was a lauded lion tamer, performing throughout Europe with his family's traveling menagerie. Upon his father's death in 1900, Carl took over the show. A short time later he married Ida Ahlers, whose father directed a popular traveling ape theater.

It was a match made in heaven. Joining talents, the two began performing together. In 1902 the Krones were invited to perform at Munich's Oktoberfest, an experience that endeared the young pair to the city. In 1905 the Krone menagerie had developed into a full circus show and changed its name to "Circus Charles." This marked the birth of what was officially established as Circus Krone in 1919, when the couple decided to make the Bavarian capital their permanent home. That same year a 4,000-seat wooden circus arena was erected. Though the building was destroyed in 1944, it was quickly replaced by a temporary structure the following year. The permanent Circus Krone buildings, which stand today at Zirkus-Krone-Strasse 1–6, were erected in 1962. Not far from the Central Train Station, Circus Krone is just behind the Augustiner Keller beer garden.

Today Circus Krone is operated by Carl Krone's granddaughter, Christel Sembach-Krone. The premises include a 3,000-seat performance arena as well as additional buildings generously accommodating the entire cast of circus animals, rehearsal space, workshops, administrative offices and dressing rooms. When the circus is on the road, the venue is rented out for a wide variety of events, including concerts, festivals, lectures, and musicals. The arena has attracted performers ranging from the Rolling Stones to Irish folk dancers and has a packed events calendar each year between April and November.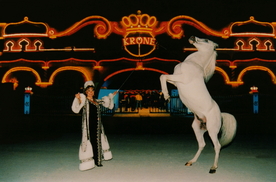 The Circus Krone act splits the year between winter performances in Munich and a long summer touring season. The winter season begins on Christmas Day and continues through the end of March. Several matinee and evening performances are scheduled each week. In order to ensure a variety for local audiences, Circus Krone offers three circus programs each winter season with new acts each month. Ticket prices range from € 13 to € 29 and can be reserved in advance and purchased directly from Circus Krone or from box-offices at Hertie, Stachus or Hieber am Dom.

In early April, Circus Krone takes to the road, beginning an eight-month European tour of 30 cities. The traveling "city-on-wheels" is impressive. The entourage includes nearly 400 personnel, 250 animals, 330 vehicles, a 5,000-seat circus tent, its own electric generator, a cafeteria, a restaurant, a school and even a private fire squad. The traveling Circus Krone claims to be the largest circus in Europe. With this contingent, it'd be difficult to argue otherwise.


© MF Owen/Dec. 05